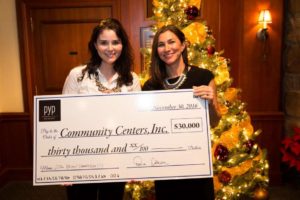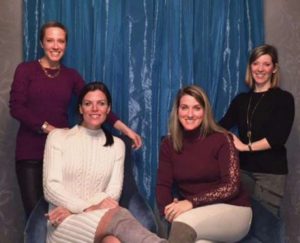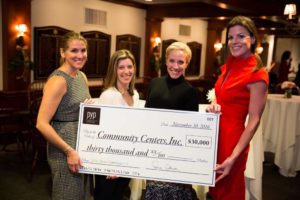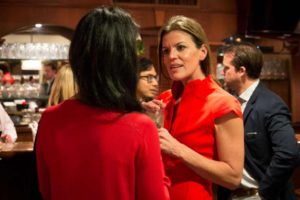 A large check, in both size and amount, represented the culmination of a year's worth of hard work for Pitch Your Peers, a local collaborative giving group comprising 37 Greenwich women.
The $30,000 check was handed over Wednesday to Community Centers Inc., the winner of PYP's first annual pitch competition. The event fulfilled the dream of PYP's four founders, Brooke Bohnsack, Dara Johnson, Nina Lindia and Rachael LeMasters.
The four brainstormed the concept for PYP as a way to combine many charitable contributions so they can make a big impact in their community. They also hoped PYP would provide a platform for its members to learn about new Greenwich philanthropies while making an educated decision about where to give their donations.
This resulted in a pitch competition in which four teams gave presentations on how the funds would help Greenwich through the charities' programs they chose to represent. The projects pitched included Kids in Crisis, B*Cured, the Byram Park pool and the winner, by one vote, CCI.
The funds will go toward creating a part-time position for development at CCI. The new employee will be tasked with raising awareness about CCI and attracting new funds. "We are thrilled to be the first recipient," CCI Executive Director Lauren Francjamore said Wednesday. "This money will be impactful long-term and it's an investment in the growth of our organization."
CCI's mission is to help clients overcome educational, social and economic barriers. Its programs range from homework help and tutoring to helping seniors live independently.
CCI's grant champion who pitched the program, Steviann Martines, said one of its most important goals is bridging the achievement gap, which Greenwich United Way has identified as the town's top need.
During the check presentation Wednesday, Lindia thanked all the members for trusting the founders with putting together this unconventional method of donating. "It was a big risk to write out a check for $1,000 and not know where it was going to go," she said. "But seeing this should make you have faith in the process." She also encouraged members to make it their New Year's resolution to volunteer at CCI to see first-hand what the organization does.
With Wednesday closing out PYP's first year, the group is looking to the future. The founders hope to grow the number of members so they can increase the size of the check next year. To attract new members, they worked with four students from Sacred Heart Greenwich to create a recruitment video. The students filmed the pitch competition, as well as interviews with the grant champions, members and founders, plus the check ceremony.
But the founders hope their group's impact won't be limited to Greenwich. They are already discussing ways it could expand to other communities across the nation and to younger generations.