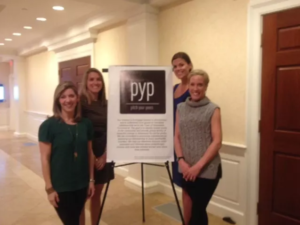 GREENWICH, Conn. — Although the fate of the nation isn't hanging on this vote, the 30 women of Pitch Your Peers in Greenwich now have a difficult choice to make.
They were recently presented with four compelling cases and must now select only one nonprofit organization to receive the $30,000 grant they have funded.  But no matter which organization wins this vote, the end result will be good.
The women gathered in the Fellowship Hall of First Presbyterian Church for PYP's first-ever Pitch Night recently. The $1,000 dues paid by each member in the first quarter of 2016 make up the $30,000 grant that the organization will be awarding to a local nonprofit.
At Pitch Night, four PYP members designated as this year's "champions" presented information about the local charity they were sponsoring for the group's consideration.
Before the start of the meeting, Rachel LeMasters, vice president and grants chair and one of PYP's four founding members, took a few minutes to talk about the organization. The other founders are Nina Lindia, president and communications chair; Brooke Bohnsack, vice president and strategic and community relations chair; and Dara Johnson, vice president and finance chair.
"Nina is very astute," LeMasters said. "She noticed that people ask for small amounts of money, and they're apologizing for asking, and they're asking without educating people about the organization."
"She knew some of us would like to do more, know more and give more. A lot of us have small children and are relatively new to town. PYP is a way for us to become informed and get involved."
LeMasters pointed out that, even for the three organizations that don't receive the grant this year, being pitched to the PYP membership was still valuable.
"That's almost 30 ears they didn't have before. It's pretty powerful," she said.
Getting their message to women with the means and interest to get involved, perhaps as volunteers as well as donors, makes it worthwhile for a nonprofit to be championed, she said.
Another aspect to PYP is the concept of responsible giving, LeMasters said.
"We want to have the grant remain meaningful but manageable," LeMasters said, speaking of keeping PYP membership in the 30- to 40-member range, and of the focus the group has on making their grant specifically to a Greenwich organization.
The four founders have underwritten the cost of running PYP, so all of the dues money goes toward the grant.
The first champion to speak at Pitch Night was Karena Bailey, presenting on B*Cured. The organization's name stands for Brain Cancer Understanding Research Education Development, she said. Her interest in the organization is personal, since both her mother and a friend's mother have died from brain tumors. In addition to the pitch for the PYP grant, she shared information on an annual fundraiser B*Cured has each March at Chelsea Piers.
Steviann Martines pitched next, about CCI, or Community Centers Inc. of Greenwich, which provides free educational, therapeutic and recreational programs to residents from childhood to senior adulthood.
Martines said that at CCI, they Care, Counsel and Inspire their clients through program offerings such as homework clubs for kids in low-income housing. After outlining her vision for how CCI might use a $30,000 grant from PYP, Martines invited the PYP members to visit CCI and see the good work they are accomplishing.
Next, Lisa Getson presented Kids In Crisis for PYP's consideration. Kids In Crisis provides conflict resolution counseling 24/7 for families in need. They also operate two emergency shelters, one for young children and one for teens. Getson pointed out that as the state budget cuts caused other organizations to shut down, more people have come to rely on Kids In Crisis than ever before. She also noted that the organization provides the only shelter in the state that serves both genders, allowing siblings to stay together when their family is in crisis.
Finally, Monica Huang presented on a project she is championing through the Junior League. After explaining the benefits her project offers to the community, Huang, like the other champions, pointed out ways that PYP members could be involved aside from awarding the grant to her cause.
Once the presentations were delivered, Nina Lindia thanked the champions and addressed the PYP members on the power the of group approach to giving, making the community better than it already is.
"Membership in this group buys you not just a vote, it buys you a real education about our community," Lindia said.
The PYP membership will vote in early November on which project will get the $30,000 grant. Between now and then, members are able to learn more about each of the organizations through in-person meetings and tours facilitated by the champions.